This is a pic of me. Yes I know Im not the prettiest girl in the world but I live with it. If youd like, tell me what you think.
Description:
MSN:babygirl20027086@hotmail.com
Yahoo!:jkwfan_24@yahoo.com

This is my new Wiki!!!woot!pl
ease join GothicDepression Fan Club



Me And My Cat Sassy!!!!!!



This Is Also Me And Sassy!!!!!

I have Brown hair Blue eyes big boobs and nice butt. i love hanging out with my friends.im not a prep and i dont always get along with them. but i will take the time to get to know them.now let me tell u some other things about me.i love being around people. if u want to ask about me go ahead ill mostlikely answer anything. im not a whore. i love hanging around with my guy friends. i play football, baseball, soccer, basketball, i ride horses, im starting to break them. im energetic. my main goal is to make my friends happy. lol. theres more then that but oh well. i cant stand it when theres somthing wrong with my friends. im not the kind of person that gets into ur buisness unless im asked to. im a freshman in highschool. i dont care if u think thats gay. i really dont care if u dont like me thats just the kind of person i am. so if u dont like me tell me. bc i really dont care.I have a new wiki and its called Bleeding Hearts

I HAVE TRIED A CIGERTTE
I HAVE BEEN DRUNK
I HAVE BEEN KISSED
I HAVE KICKED A GUY IN HIS NUTS(it was for protection)
I HAVE TAKEN PILLS
I HAVE BEEN STUPID
I HAVE HURT SOMEONE IN A FIGHT
I HAVE SMACKED A GUY FOR TOUCHING MY CHEST
I HAVE CYBERED
I HAVE DONE STUPID SHIT THAT I REGRET
I HAVE LOST A LOVED ONE
I HAVE TRIED TO KILL MYSELF
I HAVE ALOT OF FRIENDS THAT CARE ABOUT ME
I have done alot of things in my life that i regret and will probably never do again.
Im not a prep and i dont like them. I can get along with them every now and then but they dont take the time to get to know me. i hang out with everyone. I dont judge people so dont judge me. I have alot of friends. so if u want to talk just message me.

Friends From School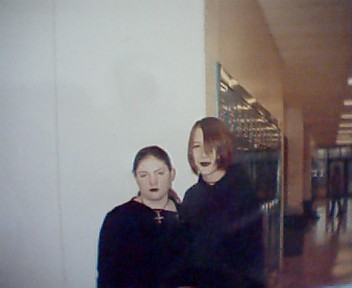 This is me and my "sister" Sarah. It was tiwn day at school so we dressed up in all black. It was HOT.


From Left To Right These are my friends Sarah Hohl, Josh Carpenter, Brigette Stegman, And Chris Baley(Baley was a little late for the picture lol).


This is Me And My Best Friend since the seventh grade Ashley Fritz (she's a hottie lol. Shes my girl so dont even ask me to introduce you.)


This Is Me, my friend gavin was takeing the picture and the people behind him did something weird so i had a shocked look on my face lol.


This is one of my closest friends Gavin Parmenter. Isnt he a stud.lol.


Ashley Fritz one of my best friends so back off.

Wiki's:


Anime
Dogs are better

This is some of my work and a story i found i hope u like it.

Death is nothing at all.
I have only slipped away into the next room.
I am I and you are you.
Whatever we were to each other, that we still are.
Call me by my old familiar name,
speak to me in the easy way you always used to.
Put no difference into your tone,
Wear no forced air of solemnity or sorrow.
Laugh as we always laughed at the little jokes
we enjoyed together.
Play, smile, think of me, Pray for me.
Let my name be the household name it always was.
Let it be spoken without the shadow of a ghost in it.
Life means all that it ever meant.
It is the same as it ever was.
What is death, but a negligible accident?
Why should I be out of your mind
Because I am out of you sight.
All is well, nothing is lost.
One brief moment and all will be as it was before.
By: ME
I dont normally show people my work but i guess im making an excaption. well i hope u like and plz dont put it on ur own file.

Jenny was so happy about the house they had found. For once in her life 'twas on the right side of town. She unpacked her things with such great ease. As she watched her new curtains blow in the breeze. How wonderful it was to have her own room. School would be starting; she'd have friends over soon. There'd be sleep-over, and parties; she was so happy it's just the way she wanted her life to be. On the first day of school, everything went great. She made new friends and even got a date! She thought, "I want to be popular and I'm going to be, because I just got a date with the star of the team!" To be known in this school you had to have clout, and dating this guy would sure help her out. There was only one problem stopping her fate. Her parents had said she was too young to date. "Well I just won't tell them the entire truth. They won't know the difference; what's there to lose?" Jenny asked to stay with her friends that night. Her parents frowned but said, "All right." Excited, she got ready for the big event but as she rushed around like she had no sense, she began to feel guilty about all the lies, but what's a pizza, a party, and moonlight ride? Well the pizza was good, and the party was great, but the moonlight ride would have to wait. For Dan was half drunk by this time. But he kissed her and said that he was just fine. Then the room filled with smoked and Dan took a puff. Jenny couldn't believe he was smoking that stuff. Now Dan was ready to ride to the point But only after he'd smoked another joint. They jumped in the car for the moonlight ride, not thinking that he was too drunk to drive. They finally made it to the point at last; And Dan started trying to make a pass. A pass is not what Jenny wanted at all (and by a pass, I don't mean playing football.) "Perhaps my parents were right....maybe I am too young. Boy, how could I ever, ever be so dumb?" With all of her might, she pushed Dan away: "Please take me home, I don't want to stay." Dan cranked up the engine and floored the gas. In a matter of seconds they were going too fast. As Dan drove on in a fit of wild anger, Jenny knew that her life was in danger. She begged and pleaded for him to slow down, but he just got faster as they neared the town. "Just let me get home! I'll confess that I lied. I really went out for a moonlight ride." Then all of a sudden, she saw a big flash. "Oh God, Please help us! We're going to crash!" She doesn't remember the force of impact. Just that everything all of a sudden went black. She felt someone remove her from the twisted rubble, and heard, "call an ambulance! These kids are in trouble! Voices she heard...a few words at best. But she knew there were two cars involved in the wreck. Then wondered to herself if Dan was all right, And if the people in the other car was alive. She awoke in the hospital to faces so sad. "You've been in a wreck and it looks pretty bad." These voices echoed inside her head, as they gently told her that Dan was dead. They said "Jenny, we've done all we can do. But it looks as if we'll lose you too." "But the people in the other car!?" Jenny cried. "We're sorry, Jenny, they also died." Jenny prayed, "God, forgive me for what I've done I only wanted to have just one night of fun." "Tell those people's family, I've made their lives dim, and wish I could return their families to them." "Tell Mom and Dad I'm sorry I lied, And that it's my fault so many have died. Oh, nurse, won't you please tell them that for me?" The nurse just stood there-she never agreed. But took Jenny's hand with tears in her eyes. And a few moments later Jenny died. A man asked the nurse, "Why didn't you do your best to bid that girl her one last request?" She looked at the man with eyes so sad. "Because the people in the other car were her mom and dad." This story is sad and unpleasant but true, so young people take heed, it could have been you.

I See!
I see the love,
I see the sky,
But i dont think i can bare to see you cry.
I see the hurt,
I see the pain,
But i dont think i can let u get on that train.
I see the moon,
I see the sun,
Now please give me back that gun.

Id treasure you like a thousand jewels in the bottom off the ocean just waiting to be found and brought to the surface so the moonlight can sparkle off them and brighten up the darkest of all days.


In life there is a billion guys just like the stars but only one can make your dreams come true not all of them are gonna be your north star to show you the way to happiness and your dreams will start to come true right in front of your eyes weather you realize it or not, maybe I'm that star in the sky there is only one way to find out.

kissing is a habit, fucking is a game, guys get all the pleasure, girls get all the pain. The guy says i love you, you believe its true, but when your tummy starts to swell, he says 'to hell with you'.....30 minutes of pleasure..9 months of pain...3 days in the hospital, a baby without a name. the baby is a basterd, the mother is a whore. This never would have never happend if the rubber woulden't have torn.

BANDS AND PEOPLE THAT I LIKE AND STUFF
The used
Trapt
Creed
Papa Roach
Evanescence
Blink 182
Sum 41
Disturbed
Three Doors Down
Three Days Grace
Breaking Benjamin
ZZ TOP
Hoobastank
Beyonce
AFI
No Doubt
Linkin Park
Orgy
Jewel
The Smashing Pumpkins
Good Charlotte
Simple Plan
Fat Joe
Nelly
Usher
Eminem
50 Cent
Alicia Keys
God Smack
Uncle Kracker
Breaking The Cycle
Tupac
Puddle of Mudd
Dr. Dre
P.O.D
Limp Bizkit
Ashanti

R.I.P
Thea Marie Williams
Cory R.
Jen