This page owned by: [
Psycho Babe
] and [
xxxsexyzaraxxx
]
NEWS: Seeing as [
Psycho Babe
] isn't going to be on CH a lot I'm going to be Managing everything on here so if you want to be added as a member just ask also if you have any questions or requests please be free to ask them. Thankyou for reading this Message.
XxLMSxX
This is Our Page! Welcome! We hope you love Johnny as much as we do!!!! If you do help support us by taking a banner and posting it in your site!!! Thank You!!!
PLEASE SUPPORT US!!!!!!!!!!!! WHO WOULDN'T!?!?!?
!?!?!? HE'S GORGEOUS!!!!!!! XXXXXXXX FOR JOHNNY DEPP!!!!!!!!!!!! WE LOOOOOOOOOOVE HIM! SHOW US YOU LOVE HIM!!!!!!!!!
BECOME A MEMBER!!!!!!!! JUST ASK EITHER ME [xxxsexyzaraxxx] OR MY BEST FWEND [Psycho Babe]TO ADD YOU!!!!!!!

1. [Psycho Babe](owner)
2. [xxxsexyzaraxxx](owner)
3. [*Killer Queen*]
4. [Prue]
5. [ilovelewis]
6. [sarah f]
7. [~ Cherry ~]
8. [electric butterflys]
9. [rock190]
10. [XdinkyX]
11. [angelkitty]
12. [sour skittle]

Here are some banners of ours!!! We Currently Have 40!


We were just informed by one of the guards that u are not able to place one of these banners in ur house because they contain celebrity images.

I will make a special banner with no images in it so u can put it in ur house. It will just be so we can get the message out about our wiki and to display that u are a member! It will be up soon! Oh Here it is!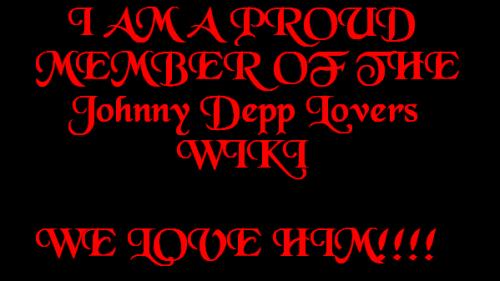 I am making more right now and new ones will be posted all the time!!!! There are never to many pics of him!!!!
LOL! TOO TRUE [Psycho Babe]

HERE IS A LOAD OF FACTS ON HIM YOU MIGHT NOT HAVE KNOWN....

JOHNNY DEPP FACTFILE

Name: John Christopher Depp II
Birth date: 6/9/63
Height: 5'10"
Weight: 155
Birth place: Owensboro, Kentucky
Hair: Brown, usually uncombed
Eyes: Brown
Occupations: Gas attendant, pen salesman, musician, actor
Address: UTA (United Talent Agency)
9560 Wilshire Boulevard
Suite 500
Beverly Hills
California CA 90212
OR
9100 Wilshire Blvd, Ste 725E
Beverly Hills CA 90212-3441
USA
Distinguishing Features: High cheekbones, pouty lips
Tattoos: Right Arm - Wino Forever, Indian head;
Left bicep - heart with Betty Sue and
inverted triangle;
three rectangles on right index finger;
The Brave doodle on right forearm;
skull and cross bones on right ankle (no image);
symbol similar to a 3 on his left hand;
Lily Rose on chest above heart;
Jack and a swallow on right forearm;
Two more unknown to me.
Relatives: Mother - Betty Sue Palmer,
Father - John Depp,
brother - Danny,
Sisters - Christie and Debbie
Marital Status: Divorced, engaged, engaged, engaged...steady with Vanessa
Business Affiliations: Long-time owner of the Viper Room nightclub in Los Angeles, though the club was reported sold in 2004. Also part-owner of the Man Ray restaurants in New York and Paris.

Production Company: Founded his own movie production company in 2004 called "Infinitum Nihil".

ALSO WE ARE ON A MISSION: TO FIND HIS CELLPHONE/MOBILE NUMBER! IF ANY1 HAS ANY INFO ON THIS SUBJECT THEN PLEEEEASE TELL US!!!!!!!! OR WE''L HUNT YOU DOWN AND SHOOT YOU!!!!!!!!

---
| | |
| --- | --- |
| | Show these comments on your site |