Email: trashgirrl@hotmail.com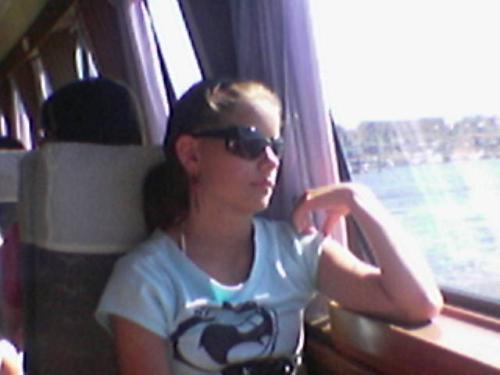 A hot, sunny day on the west coast... the only place you can dress like this without humiliating yourself!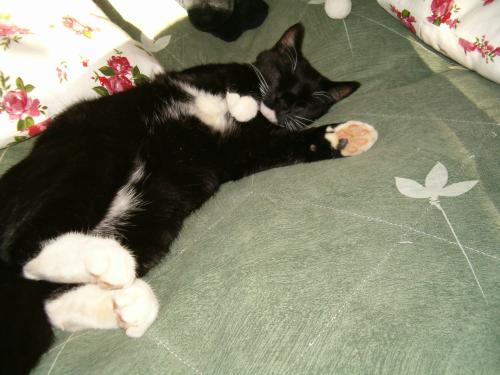 Rufus takes a break from his bird hunt.
Description:
This is us - Sabina & Rufus, two happy beeings in Sweden.
Rufus came to me as a "birthday-present", and he was the smallest and cutest little black and white cat ever! And he was so clever and loved to play and getting cuddled by us all in the family.
He is now a little bit over a year old, and he´s still clever and cute. Thou he is a little harsch in his playing, he is the baby in our home.
But he´s not a very good "kitten" anymore... he´s marking out his territories - inside the house! The Castrate Society will take care of this gangster in Marsh...


And about me... the biggest interests must be
1) Hardass music (death is the favourite)
2) Hanging out with my boyfriend and our pretty scary friends
3) Watch good movies with an BIG mug of tea and a big bar of chocolate

...and play on the bloody LTD-guitar, fight with my stupid computer, try to tell the future in cards (woo, there are maaaany cards...)


All this beautiful snow...! Rufus really likes to play, digging with his paws and get snowy all over :)
It´s so funny to watch him!

| | | | |
| --- | --- | --- | --- |
| Age: 17 | Year of birth: 1989 | Month of birth: 11 | Day of birth: 14 |
What do you do?:
Something in between
Place of living:
Sweden-other
Exact place of living:
Rosenhild
Known languages
English
German
Norwegian
Russian
Swedish
Music
alternative
folk music
goth
heavy metal
opera
progressive metal
punk
rock
Other interests
animals
anime
art
books
cars
cats
cooking
dogs
eating
fantasy
film
history
motorcycles
poetry
religion
slacking
writing
Sexual preference:
both sexes